International Student Exchange
Our programmes are aimed at complementing formal education with great, real-life learning experiences.  Run for anything between two and twelve months, you'll be placed with a local, reputable educational institution and a host family, helping you gain first-hand experience of local culture and language.
In a very competitive world, employers are increasingly seeking candidates with real-life experiences who can adapt well to new cultural environments and deal with people at all levels.  Being an exchange student is a challenging, rewarding and fun experience, and gives you the opportunity to join a new community to learn about their traditions and values.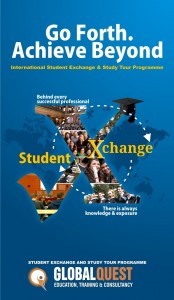 Each year thousands of students from Asia and Africa travel to countries of UK like England, Wales, Scotland, Northern Ireland as well as other countries like Republic of Ireland, France, Germany, Spain, Italy, Switzerland, Belgium, Holland, Austria, Hungary, etc, some of the most popular and famous cities and historical monuments in the UK as well as to destinations such as France, Belgium, Holland & Germany.  Global Quest currently covers UK, Ireland and Germany.
Our extensive programme cover renowned educational institutors – universities, colleges, research centres – historical monuments, museums, city tours, cultural hubs, throughout the year, giving an opportunity to international students to complement their formal education with international exposure aimed at widening their perception.   Some of our options would help them learn the local language and while they live like a local and gain first-hand experience of local culture.  Our programmes are run between two and twelve months.  Last, not the least, you will learn a lot about yourself.
You are eligible to participate in an exchange program with us if you meet the following basic requirements:
You are still at School, College or University when you apply
You are in good physical and mental health
You have a good command of your local language
You have maintained the equivalent of or better than a C grade since KS3/Year 9
You have achieved your GCSE/Jr Cert/SSE/Gr10/Year-10 or you can produce a statement from your school about your anticipated levels of achievement
You are mature and open-minded
You are flexible, adaptable, responsible and ready to learn
You are 16 or above
Global Quest is well equipped to handle small and medium groups at regular intervals.  You may either choose from our standard itinerary/programme or we can create programmes based on your individual group's preferences.  We shall organise smooth conduct of all related activities. Our role mostly revolves around:
Planning and executing programme based on individual group's preference, student profile, age-band,  and education background, etc.
Applying and obtaining visa (host country visa/transit visa/schengen visa) and return air ticket.
PC Clearances (if necessary), Travel/Health Insurance
Liaison with host universities/colleges, manufacturing units, warehouses, theme parks, monuments, museums, etc. in host countries.
Organise accommodation and transport at host country(ies)

receive the group from destination airport
transfer group from airport to hotel/B&B
coordination of group's daily programmes
ensure individual/group food preferences are adhered to
ensure proper safety and security of the group
ensure timely return of the group
Organise trained/accredited guide to accompany and supervise the troupe.